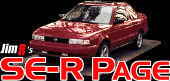 Strut Replacement Notes
1992 Sentra SE-R
Background:

If your SE-R is starting to go on in the miles, or you're installing aftermarket springs, you're going to be looking at getting new struts. The 1991-1994 Sentra has the McPherson type struts on all four corners (the 200SX SE-R has shocks in the rear). A strut is a kind of damper that forms a structural part of the suspension and holds the spring on a built-in perch. The spring still does the job of holding the car off the ground, though. That's why too-soft, too-low aftermarket springs or cut stock springs can wear out shocks faster than usual - a shock or strut simply dampens.

At around 95k miles, I replaced the stock struts on my 1992 SE-R with four new Tokico HPs. This was back in the days before the KYB brand AGX adjustable strut, a similarly priced and superior piece, hit the market. If you haven't read about it already, Tokico has earned a somewhat bad reputation on the SE-R Mailing List. Many drivers have had their struts prematurely leak lose dampening, which requires a lengthly warrantly claim return to Tokico. Mine didn't have any leaking, but their performance was no better than stock.

In early 2004, I upgraded to custom 300/200lb. F/R springs by Hyperco and matched them with KYB AGX adjustable struts. The install was the same as working with stock springs, though the Hypercos were short enough to not require a spring compressor for assembly. A worthwhile upgrade, great for both street and motorsports driving. They are much stiffer than many aftermarket "lowering" springs while reducing ride height by only about an inch, thus preventing the car from hitting the bump stops with the Sentra's limited travel.

The Swap:

The procedure isn't difficult, but takes a little time and some grunt. If you have access to a few tools, you stand to save a bit of money. I wasn't much of a shadetree mechanic when I first did the job, but I'm glad I did it myself. Installing aftermarket springs later was a breeze.

Tools:


Breaker bar

Ratchet

Spring compressor

Vise

WD-40

Sockets: 12mm, 14mm (to disconnect the connecting rod on the stabilizer bar), 17mm

Wrenches: 5/16ths (for top of stock strut rod), 14mm, 17mm box end

Ordinary garage stuff: floor jack, jack stands, hand cleaner, etc.

Strut Hardware:
Your mileage may vary, but here are my comments on the rubber/metal bits that came off my car:

Lower bolts - I don't know if you are supposed to or not, but mine looked fine so I reused them.
Upper and lower rubber seats - I bought new ones, as the old rubber was squashed and cracked.
Bound rubber bumpers (flexible tubes) - you can perform a visual inspection of these before the struts come off the car. The fronts were in great shape and reusable, but the rears were disintegrating, so I ordered new ones. I believe that no one should skimp here, since they keep the strut rod clean and possibly prevent premature failure of the strut.
Upper spring seats - No rust or sign of wear, so I reused. The rears had trapped enough dirt on top of them to grow a small garden, though.
Thrust bearings (front only) - I wished I had known to replace these first time around, since one of the washers had broke into two pieces. I used layers of duct and electrical tape to build up the place where the fragment crumpled, but this didn't keep the suspension from popping over dips and speed bumps. Get new parts and do it right.
Strut mounting insulators and insulator brackets - Again, no rust or signs of wear, so I reused.
Gaskets - All of mine crumbled, so I cut my own from a $3 roll of gasket paper that can be found at automotive stores. Grab an Exacto knife and don't waste your money on the pricey gaskets from Nissan.



The one special tool that you probably don't have is a spring compressor. Auto Zone rents them for a $40 or so deposit that is refunded when you return the tool. For just $35, I just went ahead and bought one brand new to own, which came in handy in the future. Remember to handle the springs carefully and use the compressor correctly, or you could put an eye out. They are large springs and have a good deal of energy stored up, and I've read accounts of them breaking windshields and knocking over piles of cinderblocks when decompressed without a tool.
Make sure both corners of the end you are working on jacked up and on jack stands. This isn't as necessary for removing the struts as putting them back on the car. The suspension geometry and swaybar make it very hard to line up the hub and top bolts on the strut if one wheel is sitting on the ground.
Removing the struts is simple on the front - take off the lower bolts/three top bolts and unclip the brake line, and the assembly will come right out. The rear is the same, but you have to take out the back seat and remove the connecting rod to the rear stabilizer bar. How to take everything apart and put back together really doesn't need a lot of explaining, since you can quickly see how everything assembled for yourself. The most difficult part was getting the top piston lock nut off the struts (make sure the spring is compressed first). I had to use an impact wrench with a 17mm socket to loosen the rears. If yours are not stuck, use a 17mm box-end wrench and a 5/16ths wrench on it. Once they are on the car, don't completely tighten the top nuts on the strut assemblies until the car is back on the ground. This will help to keep the alignment of the strut as same as before. Most people will recommend an alignment, anyway.
What to do with your old, dead struts? If the strut body isn't mangled up, then they still have use. You can empty the "guts" out of them and put in Koni inserts, or let someone use them as cores for custom struts.



Upgrading springs: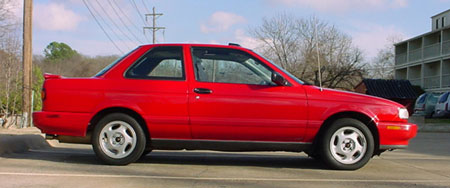 Stock springs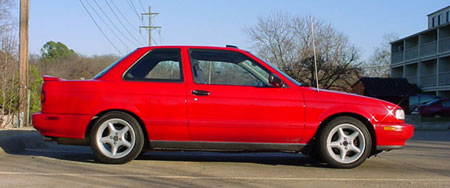 Hyperco Gen2, lowered one inch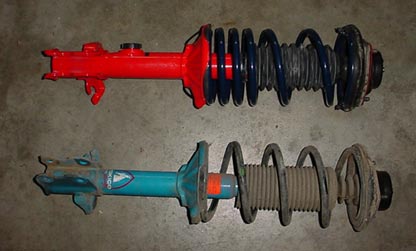 Rear KYB AGX with Hyperco Gen2 versus Tokico with stock springs



Home | Introduction | Heritage | Pictures | Autocross | Other
Copyright 1999-2001 Jim Rowland | About this page